Basic Facts:
Developer:          Gnomic Studios
Release Date:     X-Box Live Indie Games Marketplace – 17 December 2009
iOS and Android – 20 November 2013-11-20
Available on:       Android: https://play.google.com/store/apps/details?id=squareoffgame.android
iTunes: (free) https://itunes.apple.com/au/app/square-off-free/id738256121
iTunes: (paid) https://itunes.apple.com/au/app/square-off-full/id725520860
Windows Phone: (free) http://www.windowsphone.com/en-us/store/app/square-off-free/6a8eef97-9b36-4caa-8d4b-bea5732406de
Windows Phone: (paid) http://www.windowsphone.com/en-us/store/app/square-off/3a3e5ed5-6570-e011-81d2-78e7d1fa76f8
OUYA: https://www.ouya.tv/game/Square-Off/
Xbox 360: http://marketplace.xbox.com/en-US/Product/Square-Off/66acd000-77fe-1000-9115-d802585503c0
Price:                  Free (ad supported, 5 levels)
$2.99 (no ads, 7 levels)
Press Pack:   downladable press material contains screenshots and press release documents.
Description:
Square Off is a 2.5D Survival Shooter and features a seven-level single-player campaign on iOS, Android, and Windows Phone, and local co-op/deathmatch on Xbox 360 and OUYA. Blast, dodge and disintegrate your alien enemies in a desperate bid to save humanity. Wield shotguns, bombs and missiles in an insane survival frenzy. Features beautiful sound and 2.5D graphics, hordes of vicious aliens and absolutely loads of addictive fun.
Trailer:
Screenshots:
App Icon: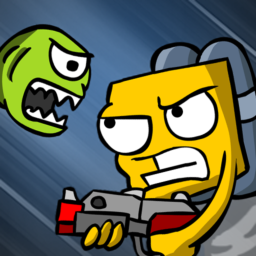 Awards and Recognition:
Microsoft Dream.Build.Play 2009 Top 20
West Australian Screen Awards 2013 Best Game Nominee
1.4 Million downloads, and 4.5/5 Global Rating on Windows Phone
XBLIGR Top 10 Xbox Live Indie Games of 2009
Selected Reviews:
"Gnomic Studios has set the bar very high"
Abstract360.com, Davicams, 9/10
"I had to force myself to stop playing just to simply write the review. So, go out and get this game"
XBLIG.co.uk, Kelly, 5 thumps up
"The 5 person team at Gnomic really focused on creating a fun, quality experience. It plays very much like a true addicting arcade game."
IndieArcade.com, Jason Evangelho
"a solid arena-shooter experience which is nicely balanced and comes complete with a good sense of humour and multiplayer modes"
XboxIndieGames.co.uk, Juice, 5 Stars
"It's the kind of game that you would expect from the xBox Live game section [...] to sum it up if you are in to shooters on mobile devices you will like this"
BestWP7Games.com, Saijo, 5/5
Read more reviews of Square Off here.
Credits:
Aranda Morrison
Lead Developer
Scott Millar
Art Design
Adam Matera
Art Design
Joel Taylor
Music
Josh Stewart
QA Lead
Michal Napora
Marketing Creative, Comms
Contact:
Email: admin@gnomicstudios.com
Twitter: https://twitter.com/GnomicStudios
Facebook: https://www.facebook.com/GnomicStudios






by