Unless you've been living under a rock, you should know by now that we've been running a free public beta of Square Heroes for the last few weeks. Today we're announcing that you can also earn yourself a copy of the full version simply by playing the beta. If that interests you, then read on!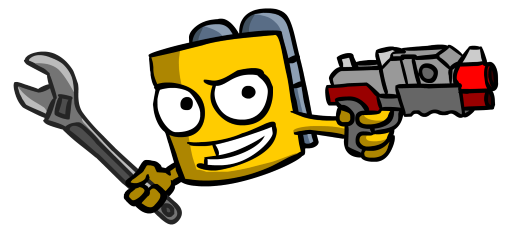 Free Key Promo Rules
Download the Beta from any of the links below (web site or Desura).
Create a Profile with your email address.
Profile must reach Level 3 before the beta ends and must be in the first 1000 profiles to do so.
You can only be awarded one key.
Square Heroes is a hilarious comic arena shooter featuring Online, LAN, Co-op and local multi-player; a single-player Tournament; and an arsenal of weapons to blast your friends out of the sky! The game has the competitive multiplayer of twitch shooters like Quake and Counter Strike, the local multiplayer fun of Goldeneye and an art style reminiscent of Worms.
Links
Square Heroes is the sequel to Square Off, the critically acclaimed arena shooter that placed in the Dream Build Play Top 20 in 2009. It was released on Xbox Live Indie Games later that year and has since been ported to mobile platforms, nominated for Best Game in the WA Screen Awards 2013, and been downloaded 2 million times.
Square Heroes is one of the last games to receive a grant from Screen Australia's Games Production Fund and is currently progressing through Steam Greenlight. The Gnomic team will be exhibiting Square Heroes at PAX AUS in Melbourne this October, find us at Stand IDP15.
Features
Price: TBD ($9 – $15)
Online and local multi-player, at the same time – Couch vs couch gaming.
Cross platform multi-player – The ultimate battle between Windows vs Mac users!
Arms-race gameplay mechanics – Players choose weapons and earn them during each round by collecting loot.
Unlockable weapons and hats with stat-buffing perks.
Various game modes – Deathmatch, Team Deathmatch, Gnome Hunt, Team Gnome Hunt and Survival.
Numerous challenging Achievements.
Seven stylish 2.5D arenas of doom.
Originally scored music and professionally crafted sound effects.